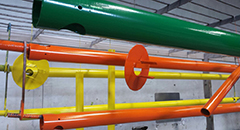 We are one of a few coaters in the country that can provide a fusion bonded epoxy application.
This is primarily used as corrosion protection of in-ground reinforcing steel and ground anchors.
We can organise transport of your coated product anywhere in the country, so if your project specifies fusion bonded epoxy as an anti corrosion coating contact us to discuss your requirements before you begin.
Talk to us about special coatings